The Right Stuff
BJ's Restaurant & Brewhouse | based in Huntington Beach, Calif.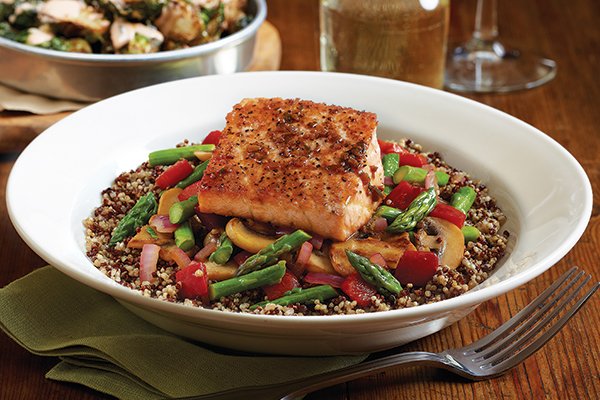 Roasted Salmon Quinoa Bowl with red onions, mushrooms, asparagus, fire-roasted red peppers and soy-ginger sauce
With its Enlightened Entrées menu section, BJ's Restaurants has keyed into a critical strategy in modern better-for-you menu development. "We believe it's not taking things out that makes them 'enlightened'—it's putting the right things in," says Scott Rodriguez, VP of Culinary and Kitchen Innovation. A perfect example of this is its Roasted Salmon Quinoa Bowl, in which roasted salmon, sautéed red onions, mushrooms, asparagus and fire-roasted red peppers are served in a bowl atop 100-percent Peruvian quinoa with extra-virgin olive oil and soy-ginger sauce.
"It's exceptionally flavorful and perfectly portioned," says Rodriguez. "All of our Enlightened menu items are craveable and bring our guests back time and time again." In fact, the success of this menu, where calorie counts stay under 795 calories, has prompted the chain to add more items. There are now more than 15 offerings, including Cherry-Chipotle Glazed Salmon and Mediterranean Chicken Pita Tacos.