One of the many advantages in the bar-bites arena is that there really are few guardrails on what you can put forward. Global mash-ups, whimsical, eclectic, comforting, homey, classic—all are welcome. They do need to be shareable and convivial. And today, more than ever, they need to stand out with flavor.
Commodity boards have dived into this space, armed with creativity and, as always, leveraging the latest consumer insights and flavor trends to help guide their recipe development. We asked a handful of them to share inspiring creations—the ones that both highlight their commodity in a craveable way while showcasing a trend-forward build.
What follows is a diverse array of menu-ready bar bites—all fitting beautifully into this dynamic and ever-evolving category.
Baja Beauty
This Baja Avocado Elotes & Crab Toast is a creative play on elote, Mexico's popular street treat of corn on the cob. "The addition of lump crab meat and fresh Avocados from Mexico turn this street food staple into a fresh, elevated, handheld bar bite that is perfect for sharing," says Mark Garcia, director of foodservice marketing at Avocados from Mexico. Cool, creamy avocados balance the tangy Tajin seasoning, spicy jalapeño and cilantro in the dish. The board has also created a variety of sauces and spreads that can elevate bar bites. "Avocado rémoulade and double garlic-avocado aïoli are perfect sauces for snacks like fried oysters or fried pickles, and an avocado-walnut pesto is ideal atop sliders and other mini sandwiches," adds Garcia.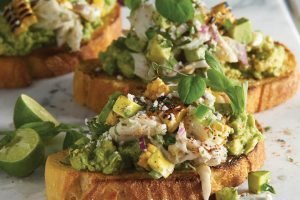 Avocados From Mexico
Pear Necessity
This Pear & Chicken Bastilla with Yogurt Herb Dressing is a fresh take on the traditional Arab-Andalusian bastilla, or pastilla. Adapted for use as a bar bite, this dish highlights the small-plate exploration of new flavors, textures and global cuisines. Consulting chef Blake Swihart's recipe, developed for the Pacific Northwest Canned Pear Service, features a combination of sweet and savory through the use of canned pears and raisins with a garam masala-spiced chicken. The mixture is then baked in filo dough "purses" and served as a stunning shareable.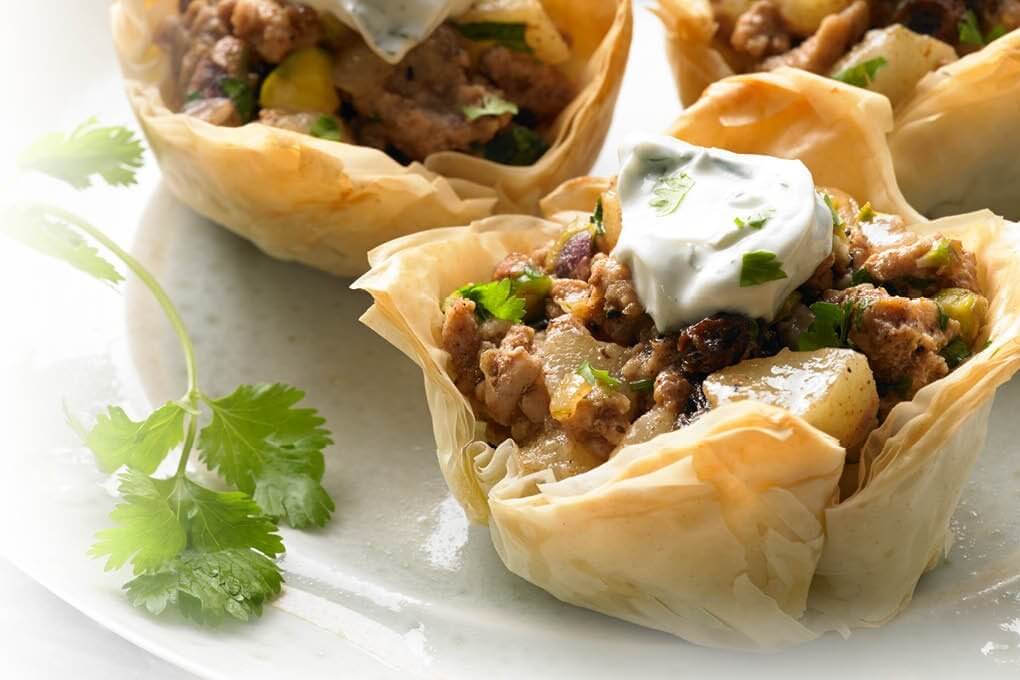 Pacific Northwest Canned Pear Service